The sixth international recurrence plot symposium will be in Grenoble, France, in June 2015.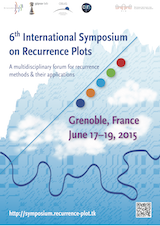 Since 1992, recurrence plots (RP) and its recurrence quantification (RQA) have become important research tools in the analysis of short, noisy and non-stationary data. Theoretical work on and practical applications of RPs have reached considerable maturity and the popularity of these methods continues to expand into diverse areas such as physiology, astrophysics, biochemistry, finance, and meteorology, to name a few.
The symposium is designed to encourage the exchange of knowledge and strategies among scientists investigating different classes of complex phenomena by means of recurrence analysis. Theoretical and experimental results using recurrences: (1) show how RPs can capture subtle underlying dynamics of complex systems; (2) demonstrate the linkage of RPs to dynamical properties; (3) provide ways to study phase-synchronization and perform complex network analyses. To this end, sophisticated recurrence methodologies possesses a utility for Complex Systems Analysis in which scientists from various disciplines are tackling similar questions and face the common challenge of extracting structural/functional patterns from the systems of varying complexity.
Applications of the RP analysis, in connection with traditional well-known research activities of Grenoble's scientific community (environment observation, biomedical researches, physics, etc.), will be an important aspect of the symposium, accentuating the interdisciplinary behavior of the RP domain.
The sixth international symposium on recurrence plots will be hosted by Grenoble Institute of Technology in France. Around 50 persons are expected to join this event.
Invited speakers
Yoshito Hirata (Aihara Laboratory, Institute of Industrial Science, The University of Tokyo):
Recurrence analysis of point processes
Peter beim Graben (Humboldt-Universität zu Berlin):
Recurrence grammars
Ricardo Luiz Viana (Universidade Federal do Paraná):
Spatial recurrence analysis: a sensitive and fast detector tool in digital mammography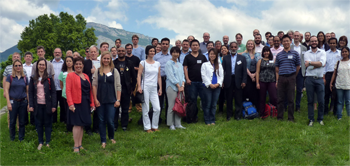 Participants of the fifth international recurrence plot symposium in Grenoble, June 2015 (Photo: Ion Candel).
Previous international recurrence plot workshops and symposia were organized 2005 in Potsdam (Germany), 2007 in Siena (Italy), 2009 in Montreal (Canada), 2011 in Hong Kong (China), and 2013 in Chicago (USA).
Organisational and scientific committee
Cornel Ioana (GIPSA-lab, Grenoble Institute of Technology, Grenoble)
Norbert Marwan (Research Domain Transdisciplinary Concepts and Methods, Potsdam Institute for Climate Impact Research)
Charles L. Webber, Jr. (Department of Cell and Molecular Physiology, Loyola University Chicago)
Lucia Bouffard-Tocat (GIPSA-lab, Grenoble Institute of Technology, Grenoble)
Fanny Soler (GIPSA-lab, Grenoble Institute of Technology, Grenoble)

Further information on recurrence plots
» www.recurrence-plot.tk
»
Follow at mastodon.social@recurrenceplot
»
Follow at Twitter@recurrenceplot
Presentations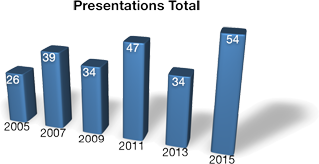 Topics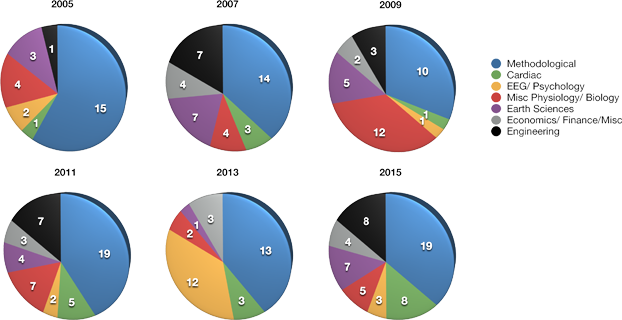 Participants