Calculate line length distributions of a recurrence plot
In the following example we use the Roessler system and the commandline RP software.
Contents
For the Roessler ODE we need to prepare a file roessler.m with the following content:
function dy=roessler(t,y, dummy, abc)
dy=zeros(3,1);
if nargin < 4
   a=.2;
   b=.2;
   c=5.7;
else
   a = abc(1);
   b = abc(2);
   c = abc(3);
end
dy(1)=-y(2)-y(3);
dy(2)=y(1)+a*y(2);
dy(3)=b+y(3)*(y(1)-c);
The commandline RP file should be copied into the current working folder. Here we use a Linux version of it with the name rp_x86_64i. You should modify accordingly to your system and version.
Line length distribution for Roessler Fig. 26A
clear
options=odeset(

'initialstep'

,.01,

'MaxStep'

,.1);

sampling time difference is 0.2
time=0:.2:2050;

integrate Roessler system roessler_abc = [0.2 0.2 5.7];
[t, x]=ode45(

'roessler'

,time,[0.1 0.4 0.3],options);

save data as 3-column vector, ASCII file
x1 = x(251:end,:); save 

roessler

 

x1

 

-ascii

 

-tabs



calculate the recurrence plot and cumulative line length distribution using commandline RP tool
clear, e = 0.862
unix([

'./rp_x86_64i -n MAX -w 2 -i roessler -c -p roessler_hist -e '

,num2str(e)]);


e =

    0.8620

Used file: [1mroessler[0m (30003 data points in 3 columns read).
Used parameters: embedding dimension       m = 1
                 embedding delay           t = 1
                 recurrence threshold      e = 0.862
                 Theiler window            w = 2
                 minimal diagonal line l_min = 2
                 minimal vertical line v_min = 2
                 maximum norm used 
Calculate recurrence points |..............................|   0% Calculate recurrence points |..............................|   1% Calculate recurrence points |*.............................|   2% Calculate recurrence points |*.............................|   3% Calculate recurrence points |*.............................|   4% Calculate recurrence points |**............................|   5% Calculate recurrence points |**............................|   6% Calculate recurrence points |**............................|   7% Calculate recurrence points |**............................|   8% Calculate recurrence points |***...........................|   9% Calculate recurrence points |***...........................|  10% Calculate recurrence points |***...........................|  11% Calculate recurrence points |****..........................|  12% Calculate recurrence points |****..........................|  13% Calculate recurrence points |****..........................|  14% Calculate recurrence points |*****.........................|  15% Calculate recurrence points |*****.........................|  16% Calculate recurrence points |*****.........................|  17% Calculate recurrence points |*****.........................|  18% Calculate recurrence points |******........................|  19% Calculate recurrence points |******........................|  20% Calculate recurrence points |******........................|  21% Calculate recurrence points |*******.......................|  22% Calculate recurrence points |*******.......................|  23% Calculate recurrence points |*******.......................|  24% Calculate recurrence points |********......................|  25% Calculate recurrence points |********......................|  26% Calculate recurrence points |********......................|  27% Calculate recurrence points |********......................|  28% Calculate recurrence points |*********.....................|  29% Calculate recurrence points |*********.....................|  30% Calculate recurrence points |*********.....................|  31% Calculate recurrence points |**********....................|  32% Calculate recurrence points |**********....................|  33% Calculate recurrence points |**********....................|  34% Calculate recurrence points |***********...................|  35% Calculate recurrence points |***********...................|  36% Calculate recurrence points |***********...................|  37% Calculate recurrence points |***********...................|  38% Calculate recurrence points |************..................|  39% Calculate recurrence points |************..................|  40% Calculate recurrence points |************..................|  41% Calculate recurrence points |*************.................|  42% Calculate recurrence points |*************.................|  43% Calculate recurrence points |*************.................|  44% Calculate recurrence points |**************................|  45% Calculate recurrence points |**************................|  46% Calculate recurrence points |**************................|  47% Calculate recurrence points |**************................|  48% Calculate recurrence points |***************...............|  49% Calculate recurrence points |***************...............|  50% Calculate recurrence points |***************...............|  51% Calculate recurrence points |****************..............|  52% Calculate recurrence points |****************..............|  53% Calculate recurrence points |****************..............|  54% Calculate recurrence points |*****************.............|  55% Calculate recurrence points |*****************.............|  56% Calculate recurrence points |*****************.............|  57% Calculate recurrence points |*****************.............|  58% Calculate recurrence points |******************............|  59% Calculate recurrence points |******************............|  60% Calculate recurrence points |******************............|  61% Calculate recurrence points |*******************...........|  62% Calculate recurrence points |*******************...........|  63% Calculate recurrence points |*******************...........|  64% Calculate recurrence points |********************..........|  65% Calculate recurrence points |********************..........|  66% Calculate recurrence points |********************..........|  67% Calculate recurrence points |********************..........|  68% Calculate recurrence points |*********************.........|  69% Calculate recurrence points |*********************.........|  70% Calculate recurrence points |*********************.........|  71% Calculate recurrence points |**********************........|  72% Calculate recurrence points |**********************........|  73% Calculate recurrence points |**********************........|  74% Calculate recurrence points |***********************.......|  75% Calculate recurrence points |***********************.......|  76% Calculate recurrence points |***********************.......|  77% Calculate recurrence points |***********************.......|  78% Calculate recurrence points |************************......|  79% Calculate recurrence points |************************......|  80% Calculate recurrence points |************************......|  81% Calculate recurrence points |*************************.....|  82% Calculate recurrence points |*************************.....|  83% Calculate recurrence points |*************************.....|  84% Calculate recurrence points |**************************....|  85% Calculate recurrence points |**************************....|  86% Calculate recurrence points |**************************....|  87% Calculate recurrence points |**************************....|  88% Calculate recurrence points |***************************...|  89% Calculate recurrence points |***************************...|  90% Calculate recurrence points |***************************...|  91% Calculate recurrence points |****************************..|  92% Calculate recurrence points |****************************..|  93% Calculate recurrence points |****************************..|  94% Calculate recurrence points |*****************************.|  95% Calculate recurrence points |*****************************.|  96% Calculate recurrence points |*****************************.|  97% Calculate recurrence points |*****************************.|  98% Calculate recurrence points |******************************|  99% Calculate recurrence points |******************************| 100% Calculate recurrence points |******************************| 100% 

Computation time: 0 min 2 sec

Recurrence quantification analysis:
      RR:     0.009573
      DET:    0.9717       	LAM:     0.522
      DET/RR: 101.5      	LAM/DET: 0.5372      	W_prob: 87
      L_max:  404           	V_max:   4      	W_max:  5241
      L_mean: 14.02        	TT:      2.255        	W_mean: 140.9
      L_entr: 3.048        	V_entr:  0.6153        	W_entr: 3.26
      DIV:    0.002475        	T1:      101.9        	F_min:  0.0001908
                         	T2:      144.2


load histogram into Matlab
h=load([

'roessler_hist'

]); p = h(:,2);

plot the histogram
clf
semilogy(1:200,p(1:200,1:4:end),

'k'

), xlim([1 200])
xlabel(

'Length l (units)'

), ylabel(

'Total number'

)
set(gca,

'xtick'

,[0:50:200],

'xtickl'

,[0:50:200]), ylim([1e1 1e8])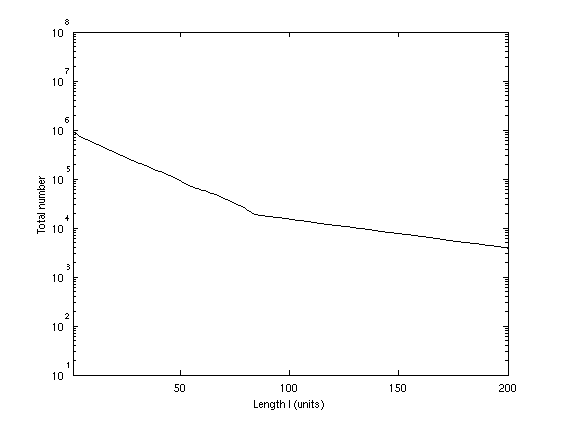 Line length distribution for Roessler Fig. 27
integrate Roessler system
clear,options=odeset(

'initialstep'

,.01,

'MaxStep'

,.1);

sampling time difference is 0.2
time=0:.2:2050;

Roessler with C = 9
roessler_abc = [0.1 0.1 9];
[t, x]=ode45(

'roessler'

,time,[0.1 0.4 0.3],options,roessler_abc);

save data as 3-column vector, ASCII file
x1 = x(251:end,:); save 

roessler9

 

x1

 

-ascii

 

-tabs



Roessler with C = 30
roessler_abc = [0.1 0.1 30];
[t, x]=ode45(

'roessler'

,time,[0.1 0.4 0.3],options,roessler_abc);

save data as 3-column vector, ASCII file
x1 = x(251:end,:); save 

roessler30

 

x1

 

-ascii

 

-tabs



calculate the recurrence plot and cumulative line length distribution using commandline RP tool, first for C = 30
clear, e = 2;
unix([

'./rp_x86_64i -s -n MAX -w 2 -i roessler30 -c -p roessler_hist -e '

,num2str(e)]);
h=load([

'roessler_hist'

]);
p(:,1) = h(:,2);

next for C = 9
unix([

'./rp_x86_64i -s -n MAX -w 2 -i roessler9 -c -p roessler_hist -e '

,num2str(e)]);
h=load([

'roessler_hist'

]);
p(:,2) = h(:,2);

finally plot the histogram
clf
semilogy(.2*(6:200),p(6:200,1),

'k--'

), hold 

on


semilogy(.2*(6:200),p(6:200,2),

'k-'

)
xlabel(

'Length l (s)'

), ylabel(

'Total number'

)
yl = ylim;line([12 12],yl,

'linestyle'

,

':'

,

'color'

,[0 0 0])
line([24.8 24.8],yl,

'linestyle'

,

':'

,

'color'

,[0 0 0])